Legend of Korr Alpha Build
a few words what you get:
- you can play all 12 levels. some levels have more stages so all in one there are 25 stages + the final level, that only apears on the worldmap when you have finished all other levels. there is no intro, no outro and no story or dialogs at this stage. the game ends when your done with all levels.
- you can check the movelist under how to play. a kill move is only possible when the enemy is near death so check his energy. the decapitions work on the most enemys and also some bosses. the only enemy where you can make 3 diffrent killmoves is the bandit. its easy to figure out. the normal moves are slash, jump, block and one special. you also can grab some enemys but this works automatic when you are near enough. i hope i found out how to place the grab attack on a button...when you grab an enemy you can kick him away or make the decapitator killmove but only when the enemy is near death.
- the taverns that apears after every finished level are placeholders at this stage...atm you only can change korrs colour. i will add diffrent weapons to korr like a battle axe so you can take your choice in the taverns.
known bugs: the game crashes when you have lost all your lifes. borlog: Fatal: can't find any player models!
what is planned for the future?
- new enemys
- places to unlock on the worldmap where you will find new weapons
- many kill animations
- new moves
- a complete story with dialogs
- new levels with new sounds and music
i hope you have fun and make a big bloody massacre ;D
please give me feedback, ideas and bugreports if you will find.
DOWNLOAD LINK UPDATE LATES BUILD 08/2023:
Legend of Korr pod - Google Drive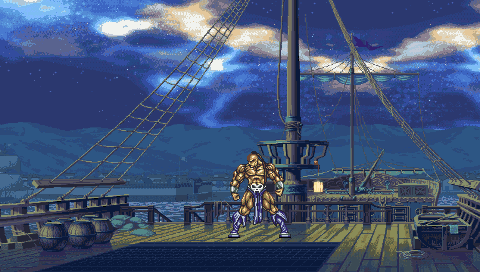 Last edited: